A Quick and Easy Safety Measure
Make sure to regularly check the tread depth of your tyres and replace them when they are worn. This will guarantee maximum traction and grip, helping you avoid any unpleasant surprises.
Your safety depends on a good level of tread depth because:
The tread grooves disperse water from underneath your tyre, helping maintain control
The more tread depth you have remaining on your tyres, the more water you can disperse and therefore reduce the risk of aquaplaning
Correct air pressure as well as regular vehicle maintenance will ensure your tyres perform at their best for the longest possible time
The tread grips to the road, affecting the distance you require for braking
The image below shows how to check the tread depth on your tyre. Each tyre has indicators showing: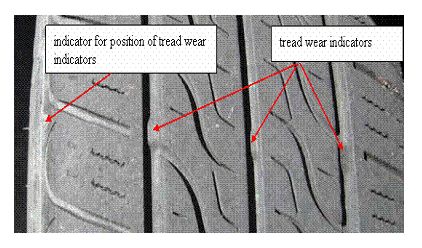 Check Your Tyre Pressure Every Month
Correct tyre pressure reduces the risk of losing control of your vehicle. It also protects your tyres from premature wear and irreversible damage to the internal construction.
Tyre pressure can drop due to small perforations, the natural escape of air through the tyre's components or even from a decrease in ambient temperatures.
So it is important to check it once a month, because:
Low pressure increases the risk of damage to your tyres
Excess pressure of 20% can reduce the life of your tyre by up to 10,000 kms
Correct tyre pressure will even save fuel
The recommended tyre pressure can be found:
In the User's Manual of your vehicle
On the labels on the side door beside the driver's seat
In the storage drawer near the driver's seat
On the inside of the fuel flap
But NOT on the tyre. The inflation pressure shown on the tyre sidewall is only the maximum tyre inflation pressure.